BECOME A privileged visitor of the MNBAQ. become a member today!
Becoming a Member is a way to take advantage of the Museum's temporary exhibitions and collection rooms, as well as to enjoy a global experience through MNBAQ events, discounts and partnerships. Give yourself the gift of art in all its expressions!Join today and become a special visitor to the MNBAQ!
By presenting your Member Card, you get:
► unlimited priority access to the Museum complex
► 10% to 15% discounts at the Museum's points of service (Librairie-Boutique, restaurants and parking)
► 10% to 40% discounts on Museum programs
► VIP invitations to premieres and vernissages
Several other discounts available:
15% off admission for your companion
► 10% off at Café Québecor by Restos Plaisirs and MNBAQ Restaurant
► 15% off at the Librairie-Boutique
► 20% off parking at the MNBAQ (daily rate)
► 50% off admission at several Quebec museums:
Privileges with our cultural partners:
LEAVE YOUR MARK AT THE MUSEUM BY CHOOSING THE avant-première MEMBERSHIP!
In addition to the privileges offered to Members, you will be the first to participate in many events and will see your contribution recognized by the MNBAQ Foundation.
Includes all Member privileges, in addition to Avant-Première recognition:
ENJOY EXHIBITS WITH YOUR FAMILY!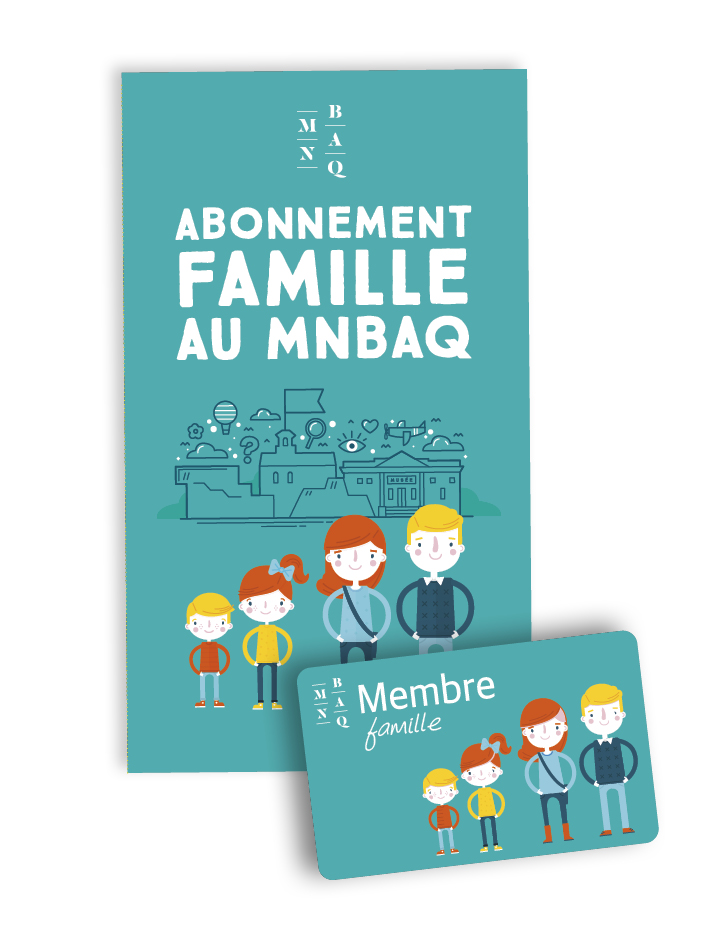 The family option is specially designed for your children or grandchildren! By adding $25 to your subscription plan, you'll have access to discounts and privileges for the entire family.
This option is available for children and grandchildren aged 17 and under. The number of children is unlimited.
OFFER A GIFT SUBSCRIPTION
Pamper a loved one with unlimited access to all exhibits in the museum complex, starting from $31. For art lovers and creative spirits, a subscription is an original gift that is sure to be appreciated.
At the Musée
Go to the box office to choose and pay for your subscription plan.
By telephone
418-643-2150 or 1-866-220-2150
Renew your subscription
We wish to have the privilege of continuing counting you as part of our community of passionate Members for a long time to come. By renewing your subscription now, you signify your interest in Québec art and culture, you support your museum in its mission, and you enjoy without interruption the many privileges and benefits that your subscription offers you.
Four simple ways to renew
Online
To sign in to your account, you will need to enter your email and password.
Sign in and renew now
By telephone
418-643-2150 or 1-866-220-2150
At the Musée's box office
Take advantage of your visit to the Museum to complete your renewal and not miss anything! It is possible to renew your membership in advance since the new year will begin only at the end of the previous year.
By mail or email
PDF form to complete
Member Services
Musée national des Beaux-arts du Québec
179 Grande Allée Ouest
Québec, QC G1R 2H1