Visitor guidelines
In accordance with the recommendations issued by the Direction de la santé publique, the Musée national des beaux-arts du Québec has implemented the following measures to ensure the safety and well being of its visitors and its employees :
Tickets must be purchased online on the Museum's website prior to your visit and according to the time slots available. The sale is final, no refund.
Hand washing is mandatory at the entrance of the Museum. Disinfecting stations are available on site;
Masks are mandatory for visitors;
Visitors will have to respect the social distance in force and follow the pre-established visit itinerary;
The Pierre Lassonde Pavilion (located at 179, Grande Allée Ouest) is the only entrance to the Museum. The entrance to the central pavilion is currently closed;
A limited number of visitors is admitted in the same time slot;

Visitors are invited to arrive 5 minutes before the time indicated on their ticket to ensure access at the scheduled time;

Exhibit visitors are allowed to enter only 5 minutes before the time indicated on their ticket, in order to respect the maximum capacity allowed by Public Health;

All four pavilions are accessible and the loan of wheelchairs is maintained.
Quebecor Café temporarily closed : mandatory reservation to eat on site.
Plexiglas protections are installed at the reception and at the Boutique;
Increased frequency of cleaning of public spaces and surfaces;
All electronic devices and installations involving handling by the public have been removed from our showrooms;
Group visits and activities are suspended for an indefinite period;
These measures will be adjusted as the situation evolves.
regular hours

From June 12, 2021

Monday
10 am - 6 pm
Tuesday
10 am - 6 pm
Wednesday
10 am - 9 pm
Thursday
10 am - 6 pm
Friday
10 am - 9 pm
Saturday
10 am - 6 pm
Sunday
10 am - 6 pm
xxx
Admission (tax included)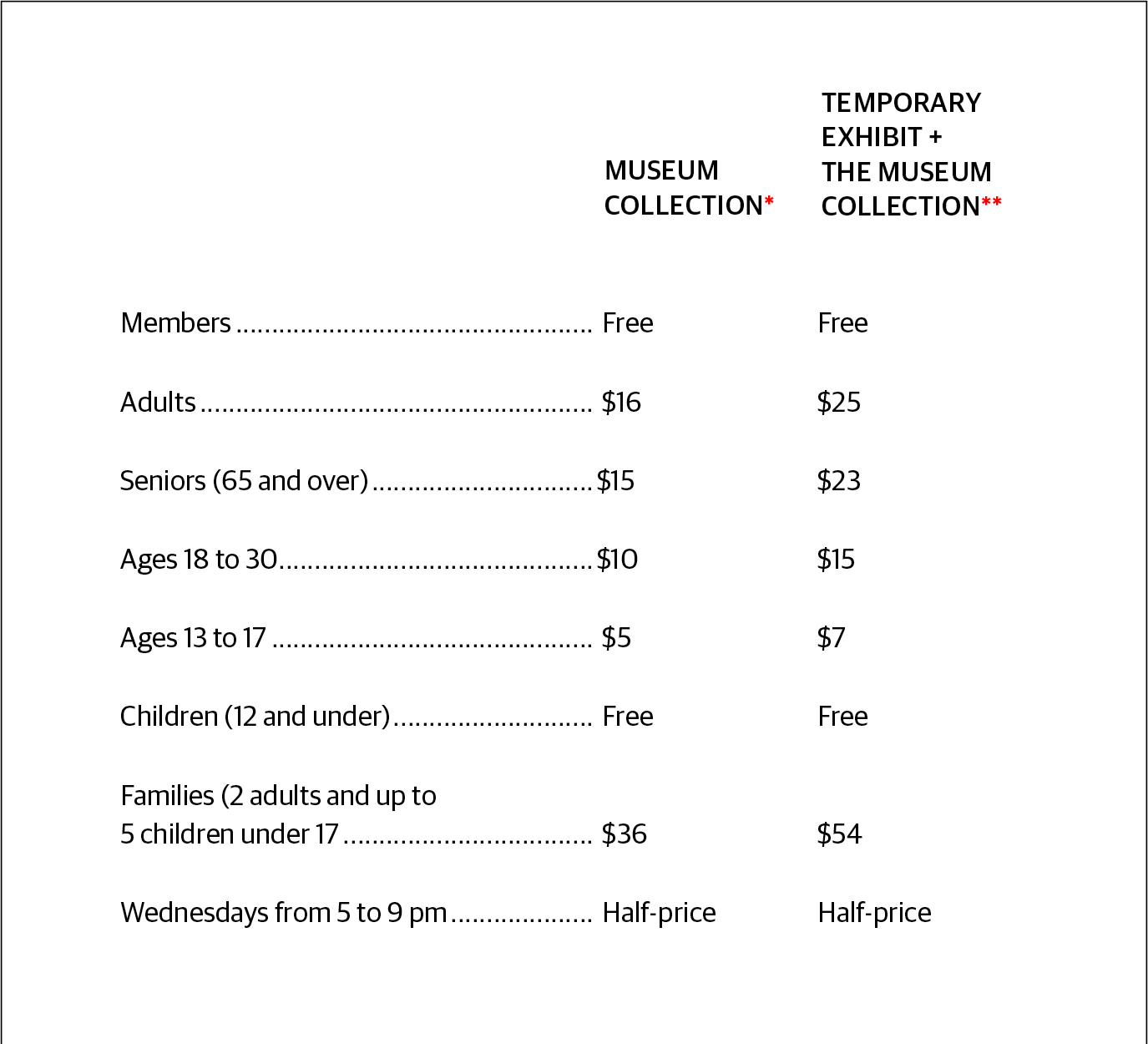 Proof of age may be required.
*Gives only access to the Museum national collection, in the Pierre Lassonde pavilion, the Gérard-Morisset and the Charles-Baillairgé pavilions.
**Temporary exhibit: Picasso. Figures. From June 12!
NEW
Free exhibitions
We are now offering a pass that allows you to visit the current free exhibitions (Wandering: A Rohingya Sotry and Jordi Bonet), as well as view the works in the public spaces and the architecture of the pavilions along the way.
It is necessary to reserve your free pass at the ticket office (one for each person present) because all visitors must present a time-stamped ticket to visit the Museum. This allows us to respect the maximum number of people admitted in a given time slot.
Please note that you will not have access to exhibitions other than those mentioned above.